Acquisitions
From figurative art to abstraction, one client's journey is teeming with bold colors and contemporary landscapes
Where we started: Residing in Houston, Texas' established River Oaks neighborhood, our client had not redecorated their home in two decades. With their children nearing college age, the timing was perfect to renovate, to consider their art collection and to make it a significant component of their lifestyle. For this couple, art was the focus.
We began by understanding their passions: What engages them? What makes them curious? What do they love to think about? What visuals do they enjoy?

Our process: Weingarten Art Group consultants guided them by visiting influential local galleries. To complement what they had experienced during our gallery exploration, WAG prepared a presentation of recommended works from our travels visiting international galleries, private collections and world renowned art fairs such as Art Basel in Switzerland, Frieze in London and The Armory Show in New York City.


We edited the choices and isolated the works that resonated with the type of aesthetic they were trying to create. Beauty was important, and so were elements and themes of meditation, elegance, timelessness, classicism and individualism.
Our client willingly purged and sold in the second-hand market some of their older art that no longer appealed to their sensibilities. They Much of what they had owned include representational works of ships, flowers and historic still lifes. In upgrading, we kept some of their holdings to balance their new contemporary taste.
WAG Your Wall: The final collection, to date, includes works from artists that helm from Stockholm, New York, Italy, Texas' Hill Country Region and more — all together harmoniously adding sophistication and thoughtfulness to their space.

A large piece by Swedish-artist Sigrid Sandström (Inman Gallery) and six watercolors by Darren Waterston (Inman Gallery) symbolize our client's journey from pure representational works into the realm of the abstract. Their eye become more trained toward art that offered some mystery, wonder and discovery. Sandström's approach is inspired glacial and mountainous landscapes of Sweden, which resonated with our clients.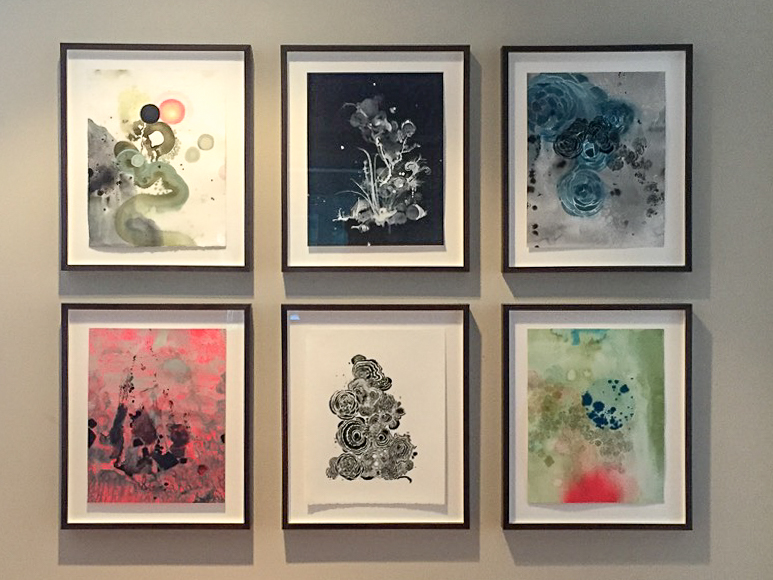 That the collection was approved by their two opinionated high school girls was a bonus. They really liked the work as well.
Before photos:
After photos: