Public Art
Q&A with Rebecca Taylor of Daily tous les jours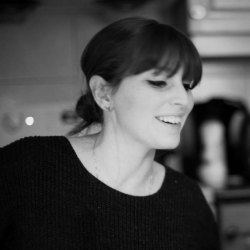 Rebecca Taylor, art collective Daily tous les jours' Product and Environment Designer, gives an in-depth look into the technical workings and inspirations of the park's new public art installation Hello Trees! A Walking Serenade.
This captivating, interactive work is located along the Brown Promenade at Discovery Green and is on view until February 25, 2018. Professional curation and project management of the immersive piece was provided by the Weingarten Art Group.
Q: How did Daily tous les jours' design studio get its start?
A: Daily tous les jours was formed around a common interest in projects that put people at the center of any design experiment. We use technology and storytelling to find the most relevant and creative methods of bringing people together to play a critical role in the transformation of their environment and their relationships.
Co-founded in 2010 by Melissa Mongiat and Mouna Andraos, the Daily tous les jours' team has grown into a multidisciplinary group of programmers, sound designers, architects, interaction specialists and graphic designers. We also have a large network of collaborators including writers, dancers, choreographers, chefs and musicians. Both in concept and in practice, we believe that we can do more together than we can alone.
Q: How does the design studio decide what the next project will be?
A: We are open to all projects! Whether in a museum or a train station, a public park or a sidewalk, our approach is always the same: to empower people in the stories that are told around them.
Q: Hello Trees! is a metaphor for the bio-communicative capabilities between trees. Can you explain a little bit about how the installation took shape from this inspiration?
A: We were inspired by the notion that nature in the context of a bustling urban center has the magical potential to reconnect people with their environment. Brown Promenade's hundred-year-old oaks provided the perfect context to reveal the invisible and inaudible natural connections and processes that exist even in the heart of a city. We wanted to create a communication channel that could visualize these processes in an abstract way, and invite people to move and communicate like the trees that surround them.
Q: Technically speaking, how does this installation work?
A: The main operational software of the installation is Max Msp, analyzing the pitch and volume content of visitors' messages, generating music based on the analysis, and allowing all of the light and sound functions to operate in synchronicity. The analysis data is transmitted to a series of Arduinos that use it to generate light patterns that travel along the arches at a rate that encourages people to slow down. The main technical challenge that we faced was the real-time audio processing of people's voice.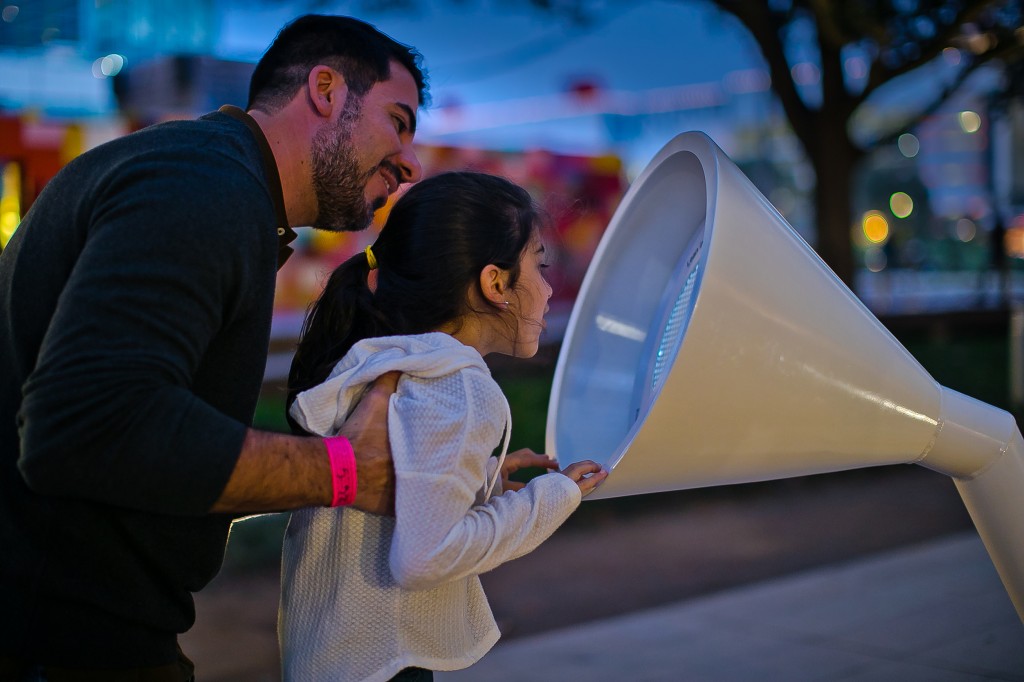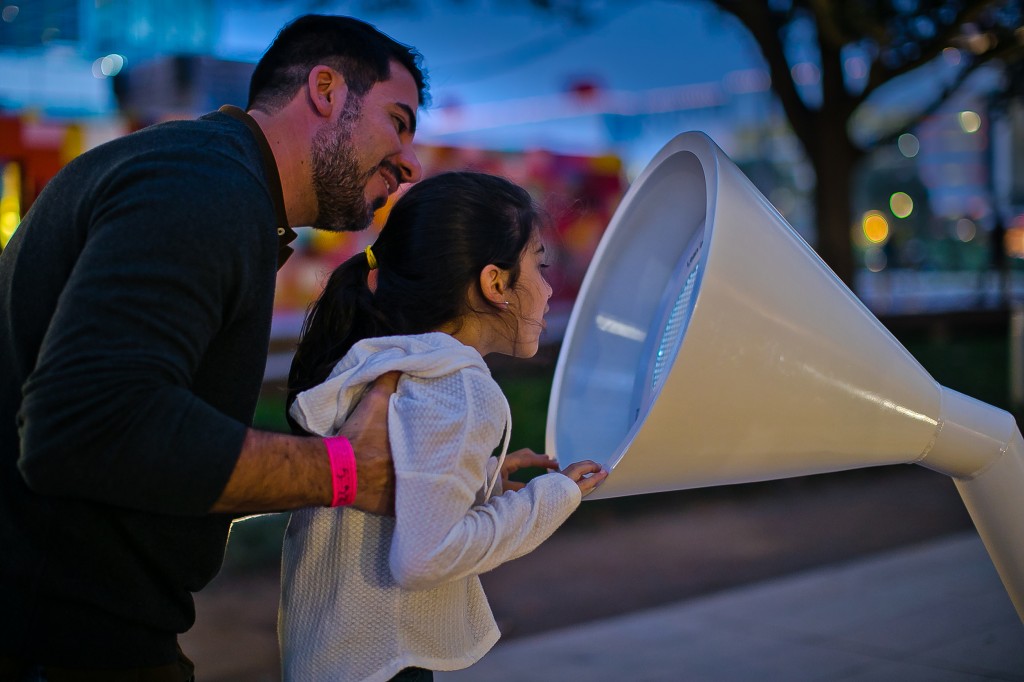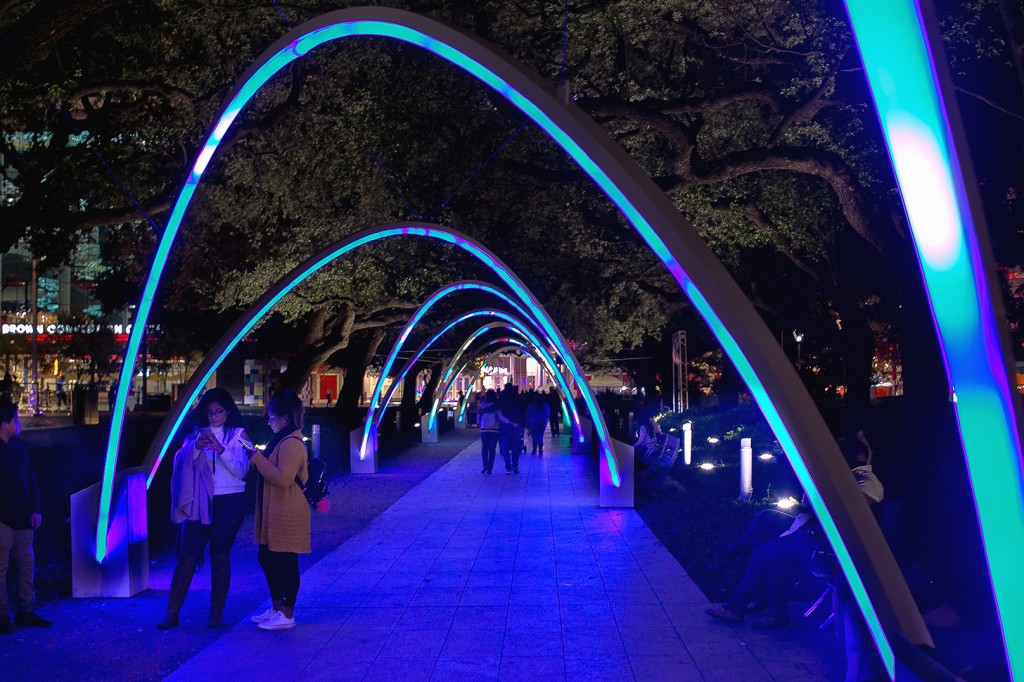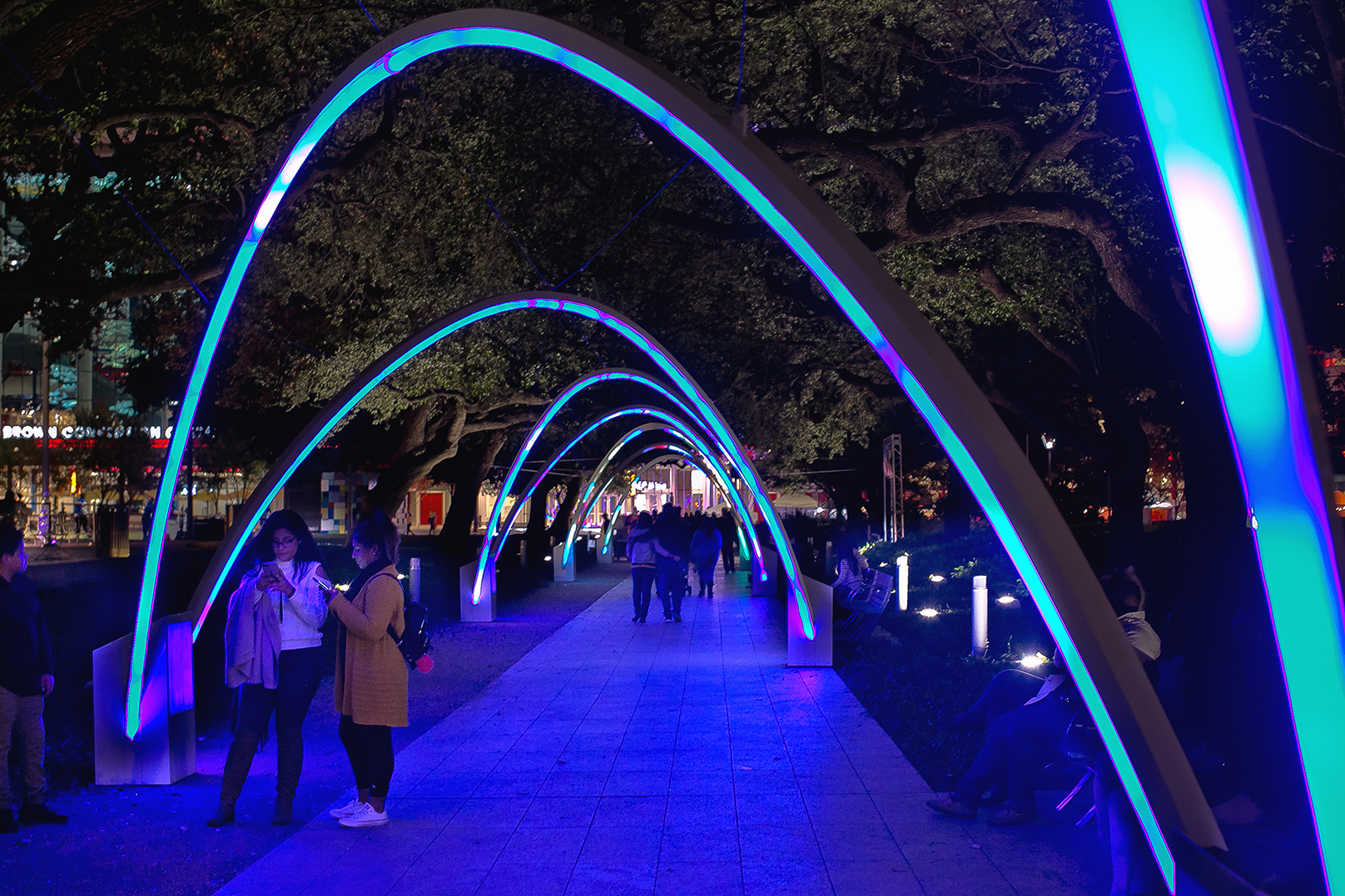 Q: What has been the most exciting aspect of creating this piece for Discovery Green?
A: It was a great opportunity to be able to create a large scale custom piece for Discovery Green's Brown Promenade that took full advantage of the length and height of the space created by the tree canopies. Exploring ways in which new materials and techniques could allow the project to really come to life at night, while still providing a new experience for daytime visitors was an interesting challenge. The prototyping of the different rates and tones of speech transformation was especially exciting as this was a new playing field for us.
Q: What do you hope visitors to the park will experience when they interact with Hello Trees?
A: We hope that people are intrigued by seeing their speech transformed into alternative communication systems—light and music—and that they will discover patterns and harmonies as a result of their cooperation. We also hope that people will be newly enchanted by the wonderful surroundings of Discovery Green park and that the project will help to emphasize the importance of nature and its role in our wellbeing.