Corporate Art
Q&A with Patrick Renner of Flying Carpet Creative
Founding Partner and Lead Artist Patrick Renner of Flying Carpet Creative, gives us a fun behind the scenes look at their recent installation titled Sluice at the new Buffalo Heights H-E-B store.
This colorful sculpture was brought to fruition thanks to the input of many people, hailing from all parts of Houston, who painted the slats (cut from wood saved from the landfill), which were used to surface the fruit slices. Coupled with the wooden wall component is an aerial ballet of reclaimed plastic pieces. This colorful array of disks flows in a dynamic path through the store's entryway, a tasty aperitif to the experience that awaits shoppers within.
Q: Tell us a bit about the Flying Carpet Creative:
A: We are an artist-engineer duo that creates public sculpture in the interest of sparking dialogue through artistic intervention. The company formed in 2015 and has installed pieces in various Texas cities (Houston, Austin, Huntsville), as well as expanding regionally into Memphis, TN and Scottsdale, AZ.
Q: What was the inspiration for this HEB sculpture?
A: It is a conversation between the spatial constraints of the stores architecture and the way our sculpture moves within it, realized in a form that speaks to fresh produce.
Q: What was the most challenging or unexpected part of the install?
A: An unexpected pleasure was using Kelly's helium balloon placement system to determine the height and position of the final plastic drop array aka "the flock".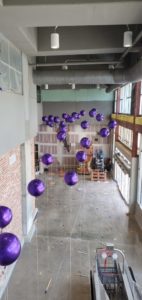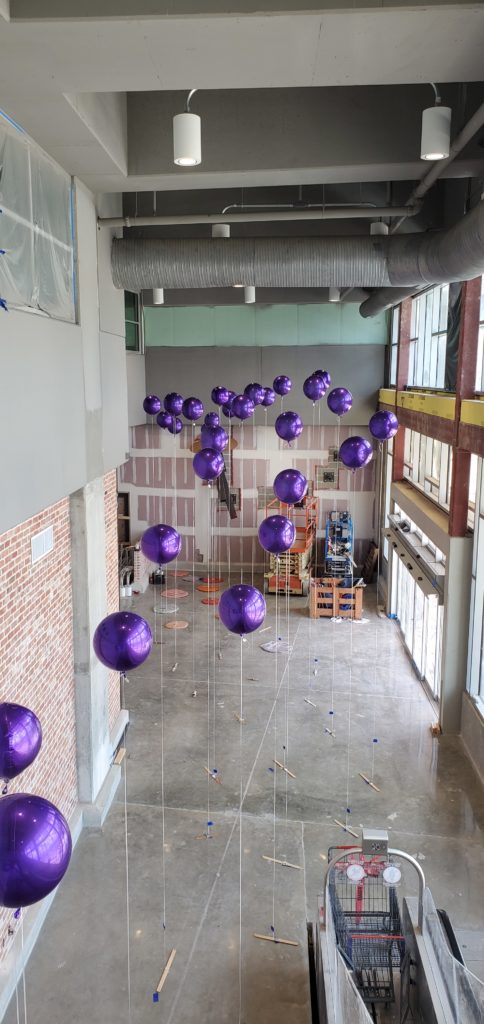 Q: What are the drops/what are they made of?
A: The drops are incidental puddles of industrial plastic left over from a production casting process, saved from the landfill by us.
Q: What is your favorite HEB snack?
A: The free cheese cubes from the DIY food sample bubble tray.