Paintings
Jim Lambie: The Master of Cool
When hunting for art that's downright cool, the "richly saturated, lightly psychedelic" work of Jim Lambie always hits the high notes. Equipped with a lesser-known, but highly influential musical background, Lambie has been rocking art enthusiasts with his visually stunning works and installations for two decades now. 
Reflective is the key word when it comes to Lambie's sculptures – made from sunglasses and mirrored surfaces. Walk into any room showcasing a Jim Lambie, you will be swept up by the starry, reflective experience. We placed a piece at the social hub of our client's home – adding elegant sparkle as they host family and friends.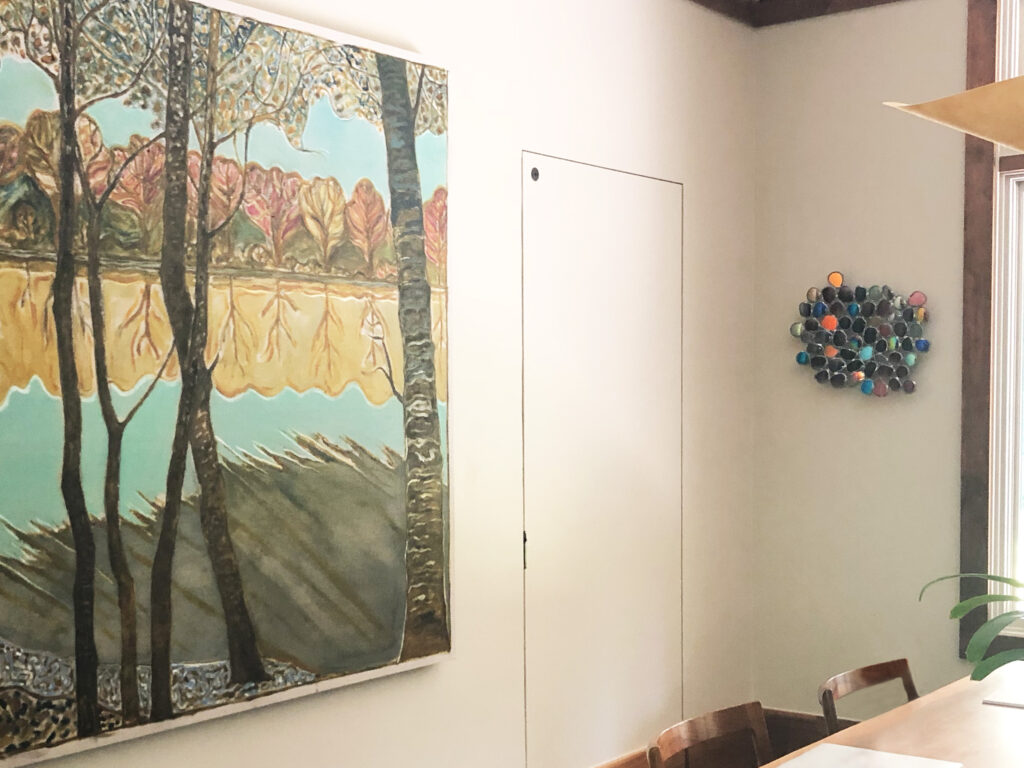 WAG's latest interaction with Lambie's work came in November with his Year Unknown show at Anton Kern Gallery and previously at The Modern Institute. His pieces capture a cool vibe that personifies our client's aesthetic.  Gazing into the artwork, you are struck by a vibrant, "Almost Famous" rockstar image reflected back. 
Perhaps most lasting and relatable is the artist's transformation of found objects and humble materials into sleek artworks. In this series, Lambie shapes each sculpture with the lenses of found sunglasses, fused together using traditional stained glass techniques and solder materials. As the gallery explains: "Lambie has created a modern remix of the venerated artistic tradition, using the ultimate symbol of cool," and we think that rocks.
To date, Jim Lambie's works have rocked the house at prestigious institutions such as MoMA, the Royal Academy of Arts in London, and the Tate Liverpool. Zobop, pictured above, is one of Lambie's most famous works. Grand and punchy, it features layers of brightly colored vinyl tape that, according to one Vice article, "spill down staircases and sprawl across gallery floors."