News
Can you unlink artists from their creative work?
The argument in a recent Houston Public Media arts and culture segment could be summarized with the question, "Can you unlink artists from their creative work?"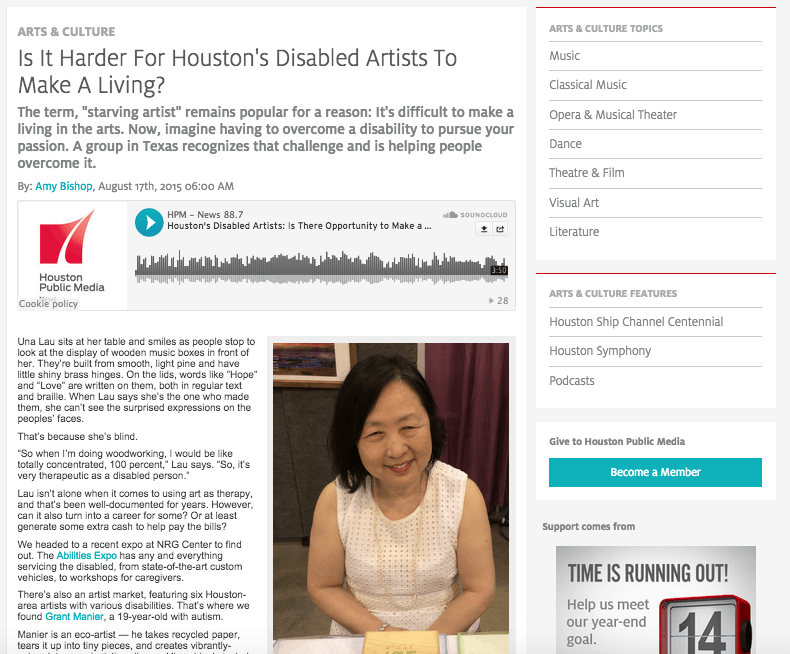 Amy Bishop, arts and culture reporter for News 88.7, visited with Weingarten Art Group principal Lea Weingarten to further explore the subject of disabled persons participating in the professional fine arts industry. Titled "Is It Harder For Houston's Disabled Artists To Make A Living?" Bishop's thoughtful piece sprung from the Abilities Expo at the NRG Center, where she met Una Lau, a woodworker who's blind; and Grant Manier, a 19-year-old with autism who crafts eco-art with recycled paper products.
Bishop reports:
Weingarten agrees that taking some of these artists out of the box labeled "disabled " and putting them with the rest of the creative community could, in turn, lead to more opportunities — and a better chance of making money as an artist. But then again, sometimes the story behind the artist is the story of the art. Some would argue that there's a fine line between the two. Just look at Mexican painter Frida Kahlo's self portrait of herself in a wheelchair.
Weingarten responds:
I think it's really almost impossible to unlink an artist from an artist's work. When you come upon a work of art that you admire and like, then learn that the artist had a disability, it's obviously more impressive and interesting.
Listen to the complete segment, which aired on August 17, 2015, in the embed below, or read the text here.