Acquisitions
Beyond the Frieze: Five notable shows in London's gallery row
While Frieze London is what's buzzing across the pond, the added pulse to an already thriving city doesn't mean that notable galleries go into art hibernation. On the contrary, with so many art cognoscenti ambling about town in search for valuable investments for themselves and for their clients, galleries offer shows that put their respective curators' best foot forward.
Here are five gallery shows beyond Frieze that are worth your time.
1. Erika Verzutti at Alison Jacques Gallery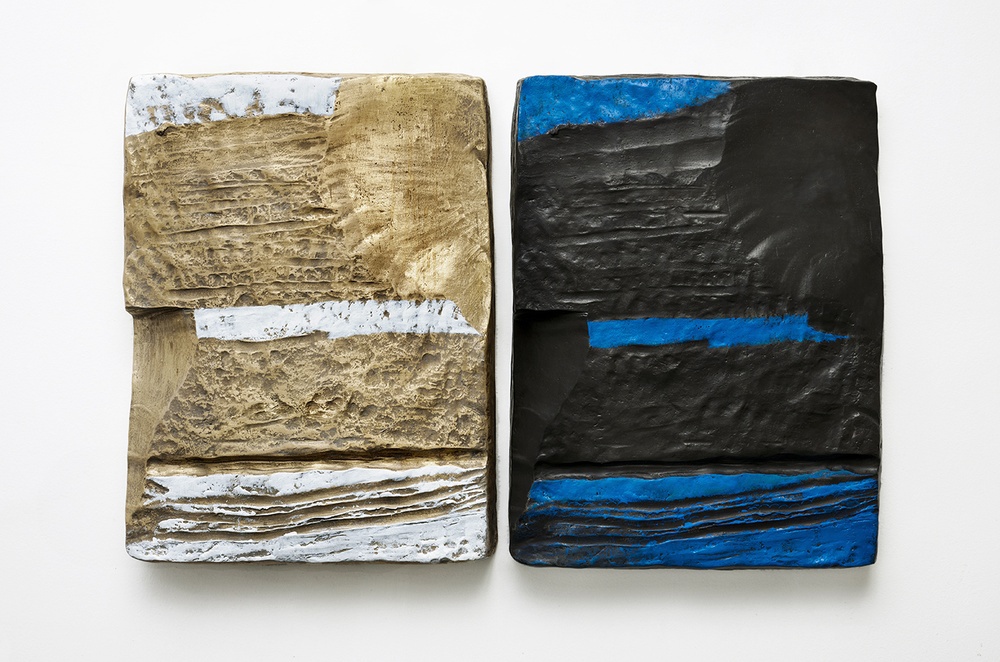 Description: Fluctuating between materiality and absence and between social structures and formal structures the artist sees sculpture as something that can exist as easily in domestic and public spaces as it can in phone screens or embedded in human gestures. Verzutti's works are at once painting and sculpture, challenging preconceived notions of both practices. While many works in the exhibition focus specifically on the human form, the artist's interest also lies in the way colour interacts with these forms.
2. Elmgreen & Dragset at Victoria Miro Gallery
Description: A wall label is normally not an integral part of a work of art. It is there to inform the viewer who the artist behind the work is, what the title of the work is, what materials it is made from, which year it was made, perhaps who gifted it or lent it to the museum, and so on. Apart from the facts it communicates, it has no particular value as an object.
Not so in Elmgreen & Dragset's Self-Portraits. In this new series of works, the artist duo have appropriated wall labels describing other artists' work, and transformed them into art works in their own right. Whereas such labels are usually printed on throwaway cardboard materials, in a scale that is meant to be detected but not too visible, Elmgreen & Dragset's labels are over-sized and made in some of the most art-historically time-honoured materials, such as marble, paint on canvas, charcoal on paper and enamel paint on metal.
3. Oscar Murillo at David Zwirner Gallery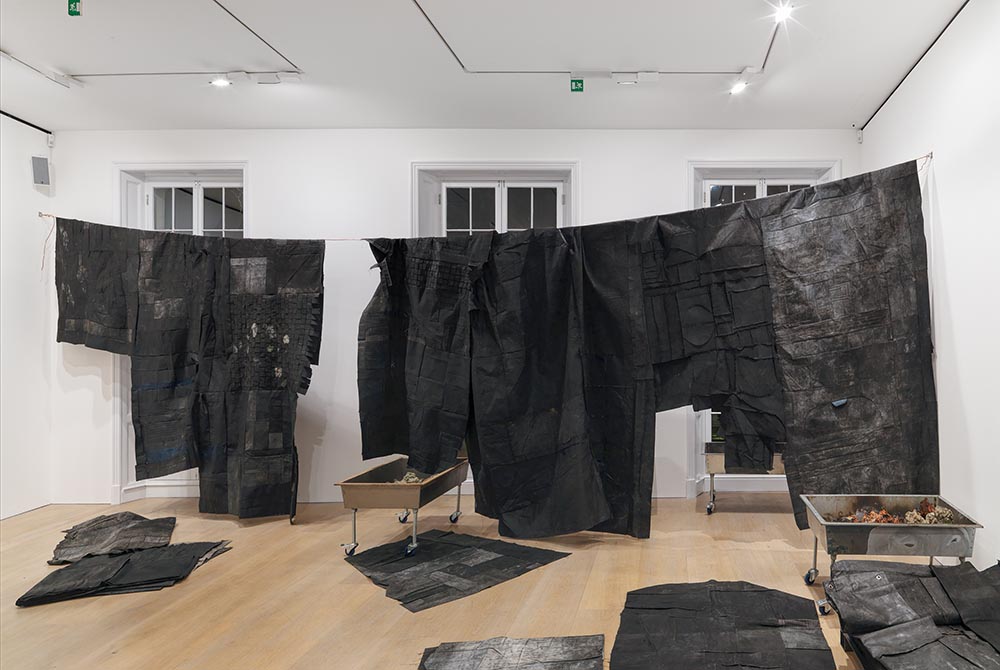 Description: The exhibition's title, binary function, refers to the pairings that permeate Murillo's multifaceted practice. For the artist, the notion of the binary is not oppositional; instead, these pairings work and play against one another to create a dialogue that exceeds individual works.
binary function continues this thread of Murillo's practice, in which conceptual dialogues manifest themselves through the artist's engagement with materials. The exhibition includes a new video projection that depicts a street scene in Murillo's hometown of La Paila, Colombia, in which people are seen chatting, drinking, and dancing to live music. Filmed by the artist on New Year's Day, its footage shifts between documentary and experimental styles, using both wide-angle and detail shots that, at times, abstract the figures' bodies into a chaotic arrangement of imagery, color, and movement. Murillo employs sound as a major, integral component of the work: its soundtrack fades between the original audio and a commissioned score, interweaving loud, jarring street noise with tempered bell-like harmonies. The audio will be played throughout the exhibition space, creating an architecture of sound whose ambience acts as a transition between the depicted scene and the exhibition at large, and complements the physicality of the adjoining installations.
4. Cy Twombly at Gagosian Gallery Davies Street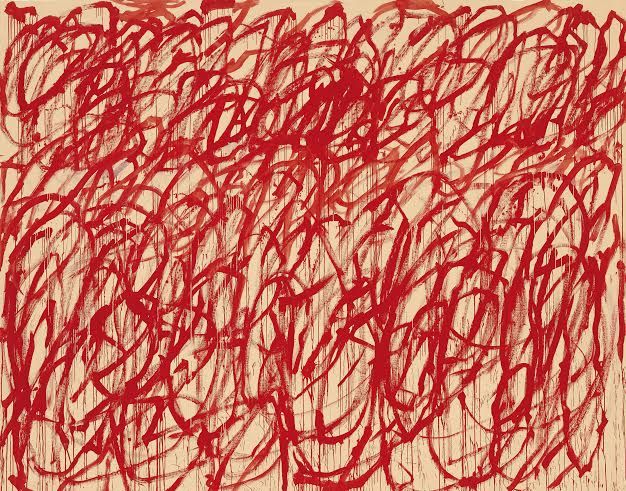 Description: From his days as a student at Black Mountain College during the early 1950s until his death in 2011 at the age of 83, Twombly captured his daily life in photographs. He recorded the verdant landscapes of Virginia and the coasts of Italy; close-up details of ancient buildings and sculptures; studio interiors; and still lifes of objects and flowers.
Beginning in the early 1990s, Twombly used specialized copiers to enlarge his Polaroid images on matte paper, resulting in subtle distortions that approximate the timeless qualities of his paintings and sculptures with their historical and literary allusions. Recalling the Pictorialism of photographers such as Alfred Stieglitz, the expressive nature of Twombly's prints transcends the mechanical aspects of the medium.
This exhibition brings together more than twenty photographs of natural subjects—tulips, strawberries, cabbages, lemons—taken in Rome and Gaeta between 1985 and 2008.
5. Gerhard Richter at Dominique Levy Gallery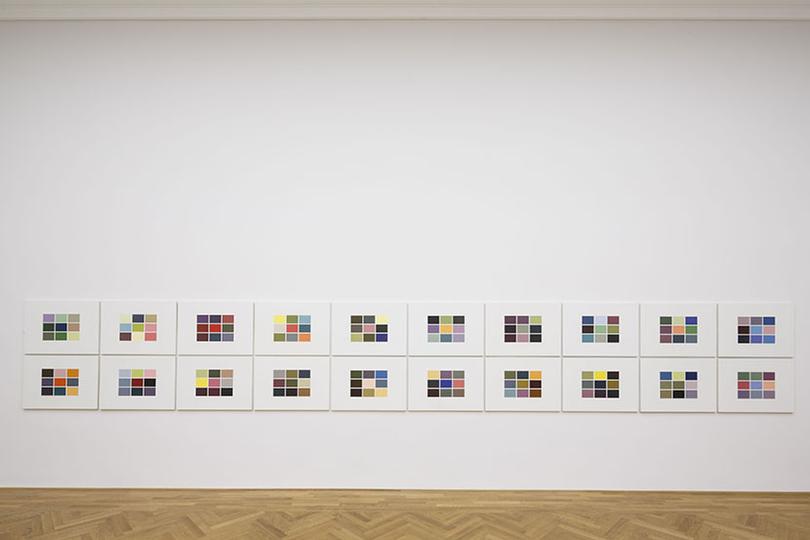 Description: Gerhard Richter: Colour Charts is an exhibition featuring a vital group of paintings selected from the artist's original nineteen Colour Charts produced in 1966. The exhibition is the first to focus on the earliest works of this series since their inaugural appearance at Galerie Friedrich & Dahlem, Munich in 1966. At once paradoxical and coalescent, the Colour Charts highlight an important moment in the artist's career and are situated across multiple leading art movements of the twentieth century.