Request for Submissions: Artwork Designs for Main Street Marquee in Houston, Texas

On behalf of the Houston Downtown Management District (HDMD), the Weingarten Art Group (WAG) invites artists living and working in Texas to submit digitally formatted artwork designs for temporary installation on the Main Street Marquee.
The Marquee is a 40 by 60-foot (vertical by horizontal) art space that will be affixed to the façade of 901 Main Street in downtown Houston's Main Street Square. Four designs will be selected and each will be installed, sequentially, for three months.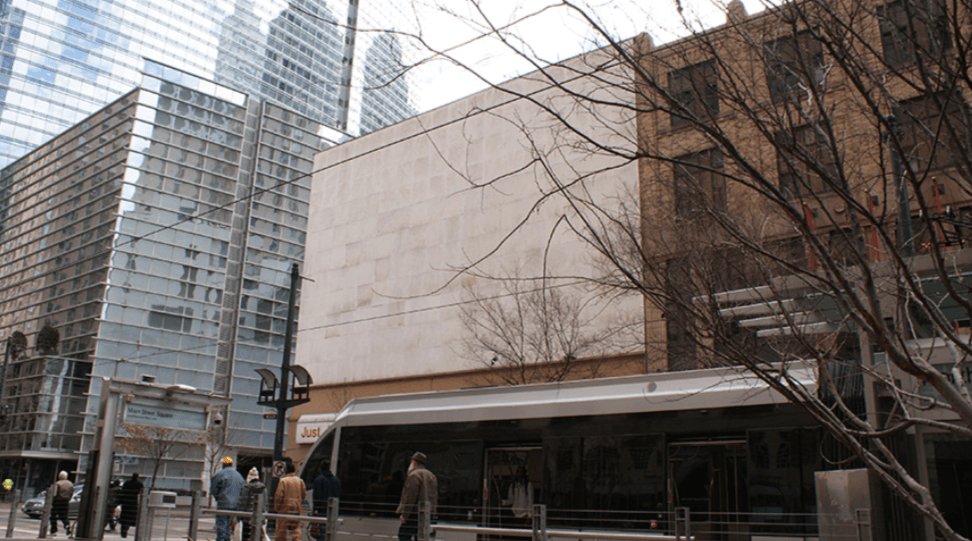 Background of Main Street Square Art Program
Main Street Square is a three-block pedestrian plaza in the 900-1100 blocks of Main Street, Houston, which includes a massive fountain (250 feet long with 13 "jump jets" shooting water 40 feet high) and two light rail stations. Ehrenkrantz, Ecstut and Kuhn, the architectural firm that designed Battery Park City in New York, developed the plaza's concept; and Fisher Marantz Stone, the firm that created the World Trade Center lighting tribute to the victims of 9/11, designed the plaza's distinctive lighting. Financed by an assessment on downtown property owners, the Downtown District works to improve facilities and services in downtown Houston above and beyond the level provided by the City and private efforts. The Downtown District is scheduling capital improvements to enhance Main Street Square, including the plaza's fountain and lighting.
The Main Street Square Art Project is the inaugural project for the Downtown District Public Art Committee (Art Committee) and will include a series of site- specific installations, one of which is the Main Street Marquee. The Art Committee is comprised of artists, curators, arts community members and downtown stakeholders. All site-specific Main Street Square public art commissions will be installed beginning Spring of 2016 and remain on view through 2017 to coincide with the NCAA Men's Basketball Championship (April 2016) and Super Bowl LI (February 2017). The first installation of the Marquee artwork series will also occur in Spring 2016 with the remaining works installed sequentially through February 2017.
Main Street Square Art Program – Project Goals
Select artists who will:
Realize a project of this scope within budget and deadline. (Practical Goal)
Produce dynamic and accessible public art. (Visual Goal)
Enhance the diversity, connectivity and vitality of Downtown Houston. (Social Goal)
Help achieve our City's goals of attracting and retaining the best talent in world. (Economic Goal)
Our aim is for the Main Street Square Art Project to be a key component in making Main Street one of the most sought-after destinations in the City of Houston.
Scope of Work
Each artist may submit up to three digitally formatted works for consideration. Four artists will be selected to participate at the Marquee site, and the selected artworks will be printed on 40 x 60- foot vinyl mesh banners for rotating display on the façade of 901 Main Street. Only one image will be on view at any one time. The Art Committee will determine the rotation schedule. Submissions should be original designs or unique site-specific works for this project and not simply photographs of existing works. No self-images, promotional or commercial advertisement images will be considered. Submissions should represent your work as a visual artist and translate well into a large format display appropriate for the public realm. WAG and HDMD will directly manage fabrication, installation and de-installation.
Eligibility
This opportunity is open to artists residing in Texas.
Budget
Artists whose designs are selected will be paid an honorarium of $1,500 for the use of the artwork. Use of artwork includes the full-scale marquee installation as well as online and print version for marketing and promotional purposes. All costs for fabrication, installation and de-installation will be paid by HDMD.
Submission Instructions
Cover letter that includes contact information, artist's website (if any), a brief artist's statement describing your practice, and a description of why your proposed artwork should be selected for the Main Street Marquee (500 words max).
Resume or company information (2 pages maximum).
Past work examples: 3 jpeg images of completed projects and/or artworks. Please do not submit proposals or sketches.
Up to three digital design files for consideration for Main Street Marquee File format: jpeg Size: 400 pixels (vertical) x 600 pixels (horizontal) Color mode: CMYK.
Contact information for at least one professional reference.
All documents should be in at least a 12 point font, single-spaced, with at least a ½" margin.
Please apply here no later than Friday, October 23, 2015 by 5pm CST. (Deadline has been extended to October 30, 2015)
The Committee will take into consideration all of the data herein when making its decisions. Once selections have been made, artists will be contacted and work directly with WAG to produce high resolution, to-scale versions for print.
September 14, 2015 – Request for Submissions (RFS) released
October 30, 2015 – RFS Deadline
November 4, 2015 – Selection, artist notification and schedule of art rotation
December 2015 – Contracting and Design finalization
January 2016 – Fabrication of first Main Street Marquee work
February 2016 – Installation of first rotation
May 2016 – Fabrication and installation of second rotation
August 2016 – Fabrication and installation of third rotation
November 2016 – Fabrication and installation of fourth rotation
February 2017 – De-installation of fourth rotation
For additional information, please contact Piper Faust, Weingarten Art Group Project Manager, at piper@weingartenartgroup.